How This Works
This course is divided into 7 sections:
Introduction
Major Arcana Cards 1-7
Major Arcana Cards 8-14
Major Arcana Cards 15-21
Court Cards
Minor Arcana 1-10
Readings and Conclusion
In each section, there is an introduction, directions, and then the videos. After the content is presented in the videos, there is a chance to review and check your knowledge in a fun quiz. Quizzes are a surprisingly powerful tool for memorizing the material so please be sure to use them. There is a Tarot Card Study Sheet that you can use to review before quizzes that is a downloadable, printable pdf file. (It's located at the end of the Major Arcana Cards 1-8.)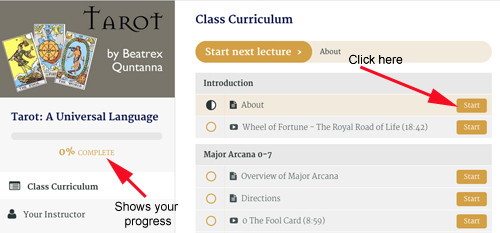 Click Start to begin the course. The indicator on the top left will tell you how far you are in the course.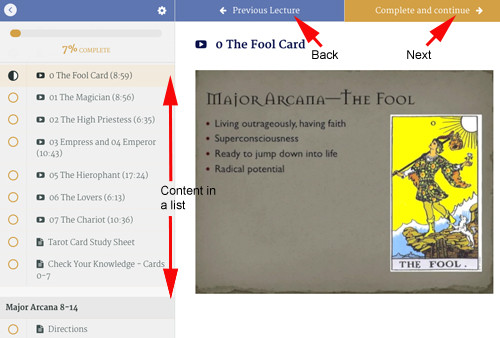 The Back (Previous Lecture) and Next (Complete and Continue) buttons are on the top bar. All the lectures are available at any time in the scrollable list down the left (in the desktop version).

***Click Complete and Continue to watch the first video which is an Introduction to the Course.

Complete and Continue